Relax Lafuma RSX Basalt - Moss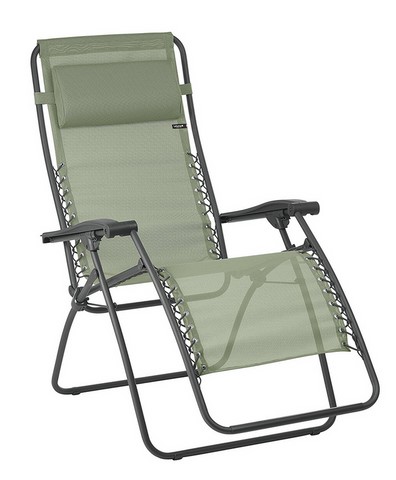 Description
Recliner
Frame Basalt
Batyline Moss
Fully adjustable and collapsible
Assembled dimensions (H x W x D): 115 x 68 x 88 cm
Packaged dimensions (H x W x D): 96 x 68 x 15 cm
Weight: 7.3 kg
Maximum weight 140 kg
Tube cm. 20
Features
A true 'Zero Gravity Chair' -When reclined at 127° the heart and the knees are aligned easing the heart rate, breathing is easier. The spine is fully supported & the body is free from its own weight.
Using the classic laces design to hold the fabric to the frame, giving support and comfort. These laces can be replaced over time if needed.
Batyline Iso fabric is practical, strong and stylish. Specially designed for outdoor furniture it combines a resistance to UV exposure, ripping and abrasion.
Adjustable & removable headrest cushion, foot pads, padded armrests, rubber footrest, and friction locks.
Weather resistant and quick-drying just clean with warm soapy water. The material can be detached from the frame to replace or clean in future years.
The Lafuma RSX is a lounge chair that is can be adjusted to any size and can be folded away. The RSX has steel construction (diameter 20 mm), ergonomic the rotating armrests in relief resin pattern and with foam pad. Removable canvas with rubber laces (suspension system) Ergonomic Head Cushion, adjustable and removable. Batyline® Batyline fabric makes it possible to manufacture items especially for use around swimming pools: it has extremely high resistance to UV-radiation, a fungicidal coating and so that the water can run off. Batyline® weave is especially tear-resistant, does not lose its shape and is easy to clean. Even here, environmental protection operated: quality label Oeko-Tex ® (reliable textile structure trollen on non-toxic substances).