ULISSE Oval Extending Table Teak Wood Centro Mobili Giardino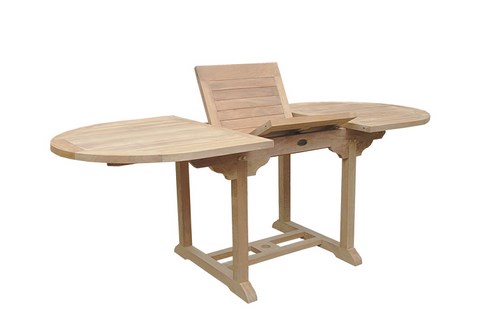 Ulisse is one of the timeless furnishing garden tables. In this extendable table, as all the ones of Giardino di Legno, the extension is housed in the table top, and therefore does not need to be stored separately. The oval table becomes two meters when the extension is open. Made of weather-resistant, unfinished teak wood with Fine Sanded Finishing. On request available in different finishes.
Teak furniture does not require any special maintenance routine apart from occasional cleaning. If left to age naturally outside by being exposed to light, air and rain, then the surface of the teak will gradually change to a soft, silver-grey 'cause the pigments in the surface of the wood slowly start to fade away. The original honey color'll assume over time a gray silvery. The application of maintenance products, will bring and extend the original color of teak furniture.
The material used for all our creations is the best wood for the construction of outdoor furniture: Teak. The teak wood is indeed very durable, impervious to mold and insects, as well as being very resistant to weathering.
PRODUCT DETAILS

Cod.: 401

Type: Extendable Oval Table

Line: Teak Collection

Frame: Teak wood

Standard wood finishing Fine sanded (others finishing +20%)

Available colors FINE SANDED - OIL & WAX - JAVA BROWN - WHITE SAND - WHITE WASH - CUSTOM COLORS

Dimensions: Width: 150 +50 cm - Depht: 90 cm - High: 75 cm